4XLED - 2xSM4 + Wireloom Kit
Here you buy a kit, delivery contains:
2 lights SM4 OFF or SPEED with Holder and fixing screw 
Standardwiring with 3-position switch (full power / OFF / day light)
4 cable ties
Instruction
Sticker
Description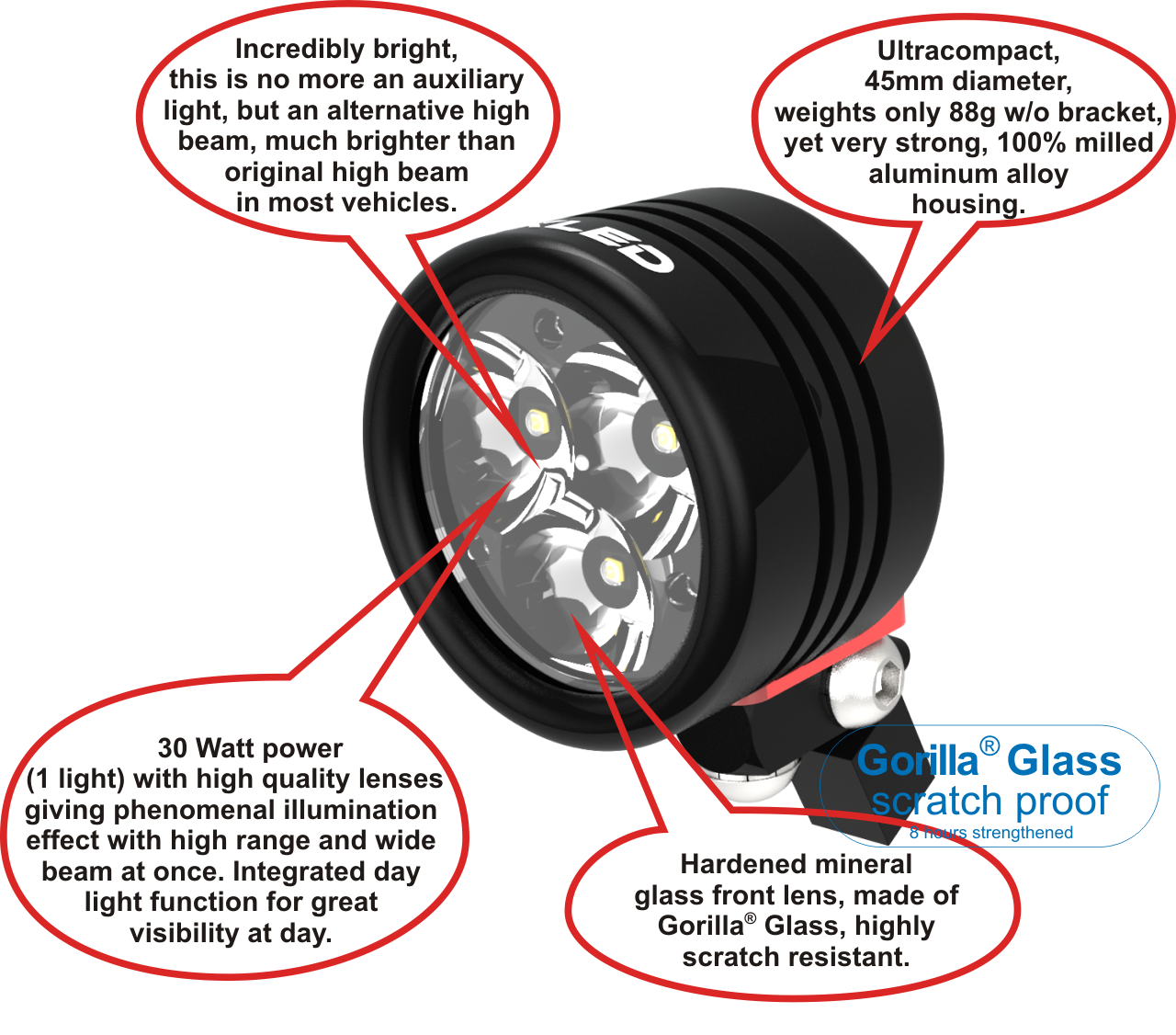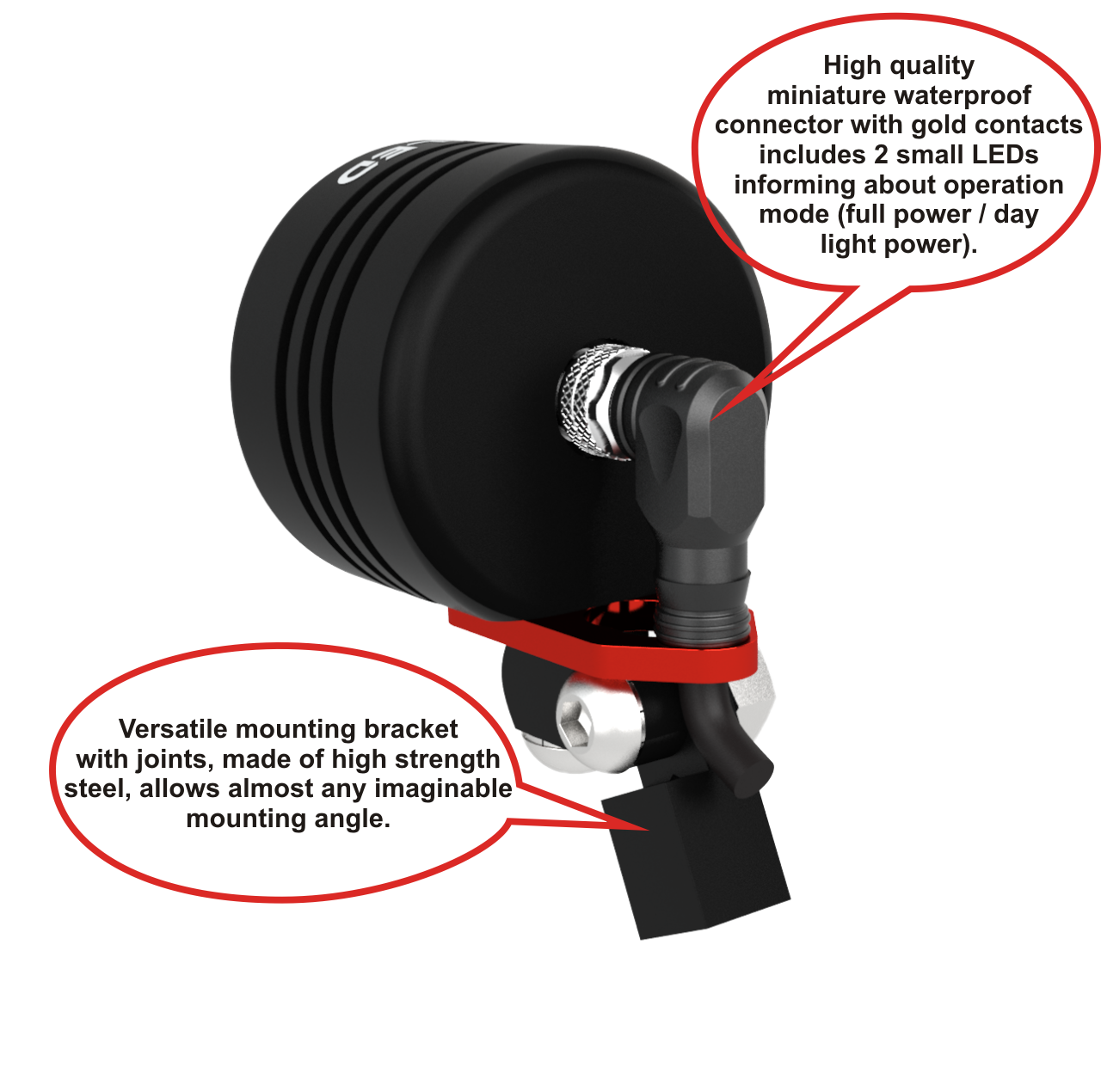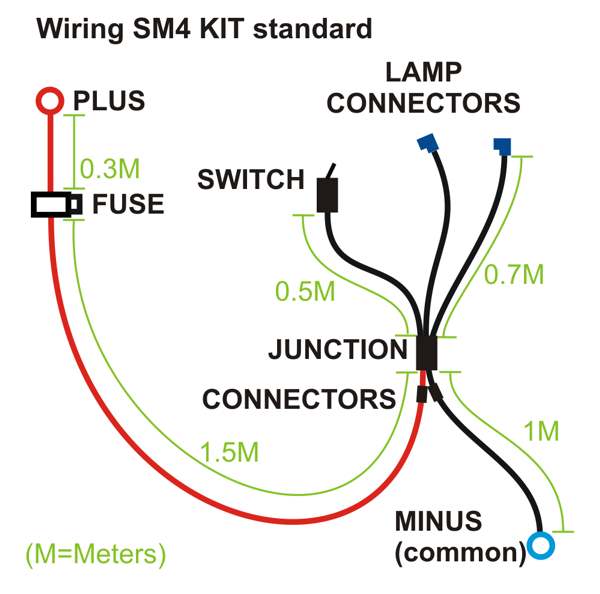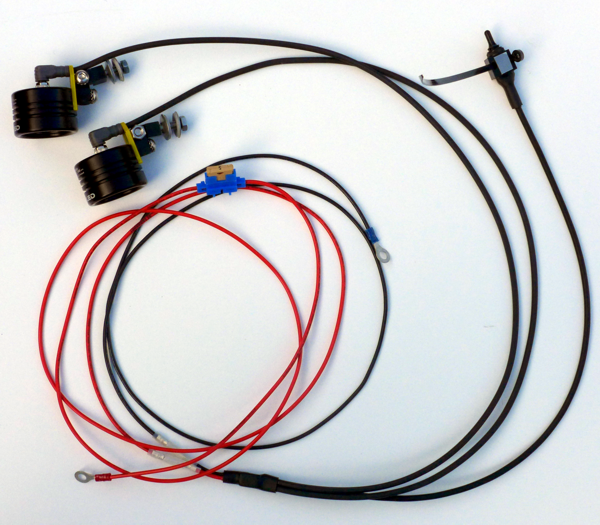 Incredibly bright, this is no more an auxiliary light, but an alternative high beam, much brighter than original high beam in most vehicles.  
IMPORTANT:  The SM4 lights are inapplicable for stationary use or for to be built in. It is designed for use in the free air, on vehicles (it needs air movement around the housing). At standing vehicle, it should be driven with full power no more than a few minutes, with reduced  power unlimited.
Mostly recommended montage: so high as possible. 
 Remark for  BMW motorcycles with CAN-bus: 2 lights SM4 OFF can be supplied from the cigarette lighter socket (the simplest for of the supply after ignition), 2pcs. SM4 SPEED have too high current, and CAN bus switches off the voltage. In this case an additional CAN-bus terminal will be needed, or the lights can be supplied directly from the battery.
Versions (light dissipation):
SM4 SPEED (30 Watt) maximum range, but also wide beam, lightening the sides to almost 180°. Recommended for vehicles, which arrive high speeds.
SM4 OFF (25 Watt) Also a really good range, with somewhat wider beam, ideal for typical off-road.
Videos:
2x SM4 OFF + BMW R1200 GS 


2x SM4 SPEED + BMW R1200 GS

Construction:
25 or 30 Watt power and ca. 3000-3500 lumen neutral white light

milled housung made of high strenght aluminum alloy

highest  environmental protection (IP69K/connector IP67)

built in high effectivity 2-stage energy converter (day light/full power)

latest LED diodes

high quality optics

thermal, overvoltage- and false polarity secured

built in an interference suppressor filter

3 years guarantee

CE und RoHS conformal
Technical Data Kit 2 lights:
Power: ~50/60 Watt 

Supply voltage: 11-30V DC

Light output: ~6000-7000 lumen


Weight: 0,3kg

Supply connection: 

Protection grade: lights IP69K/connector IP67  switch rain tightened

Dimensions light: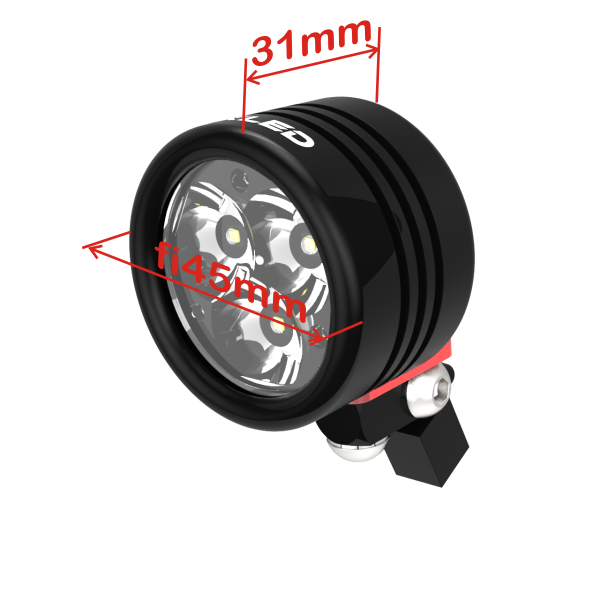 depth with connector: 48mm
Scope of delivery: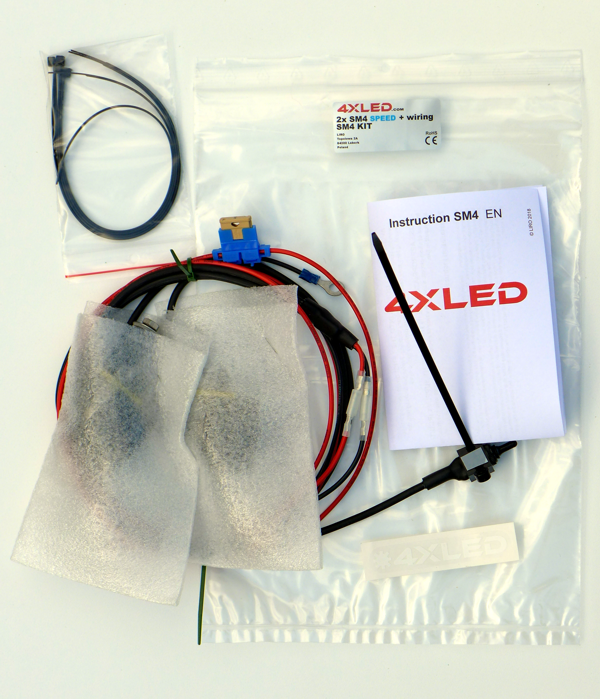 We are investing in technology of the lights, not in expensive packaging or advertising. Therefore, the kits are packaged in foil bags, with additional foam pockets for the lights.