Tyreservice
Allroadmoto Bandenservice
Om de stijgende vraag naar plaatsing van banden te beantwoorden hebben we in 2018 geinvesteerd in een professioneel bandenmachine. Deze bandenmachine heeft een capaciteit van 23" (1000mm diameter) en kan zonder moeite motor-, scooter- & autobanden plaatsen. Motorvelgen kunnen we ook manueel balanceren.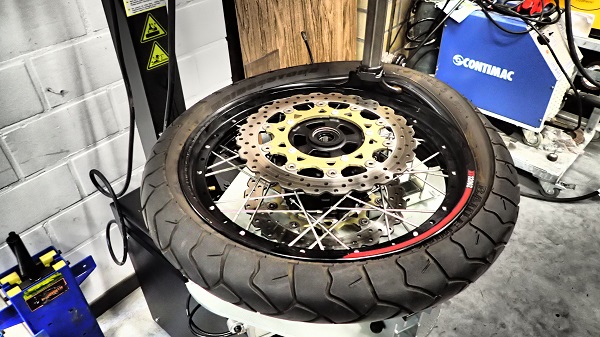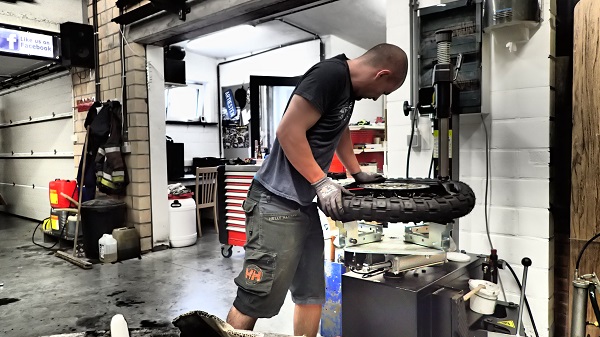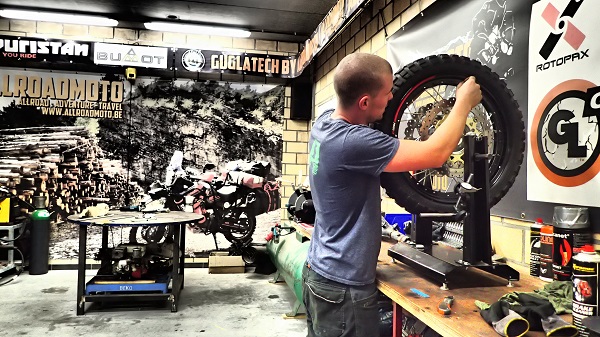 Bent u van zin banden te kopen, dan loont het zeker de moeite eens te horen bij ons. Wij kunnen namelijk alle grote merken leveren. Koop u banden bij ons, dan doen we de plaatsing gratis.
Volgende merken komen aan bod: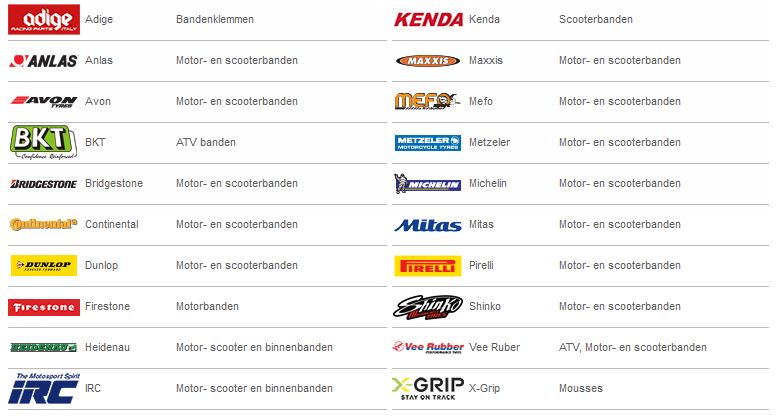 Ook zijn wij retailer van Ride-On: Tire Sealant & Balancer:
Ontdek de voordelen van een bandensealant en balanceergel gecombineerd in één formule
Bescherming tegen lekke banden en klapbanden, langer behoud van een juiste bandenspanning, minder bandenslijtage: een ideaal? Ride-On Tire Protection maakt deze eigenschappen haalbaar voor elke band.  

Dit hightech bandenafdichtingsmiddel maakt banden beter en biedt verschillende oplossingen in één: 
✓ Anti-lek werking
✓ Banden behouden langer de juiste spanning
✓ Balanceert banden op hydrodynamische wijze
✓ Verbetert de rolweerstand en vermindert trillingen en lawaai
✓ Koelt banden
✓ Banden slijten gemiddeld 25% minder


Deze eigenschappen maken Ride-On een aantrekkelijk en voordelig alternatief voor onder andere geluiddempende banden, run-flat banden, sealants zonder balancerende eigenschappen, een reparatiekit en balanceerpoeders of -loodjes. Omdat Ride-On preventief werkt kunt je bij een inrijding gewoon doorrijden. De sealant zit al in de band en dicht het lek onmerkbaar: binnen seconden en vrijwel zonder drukverlies. Sta dus niet meer stil bij een lekke band!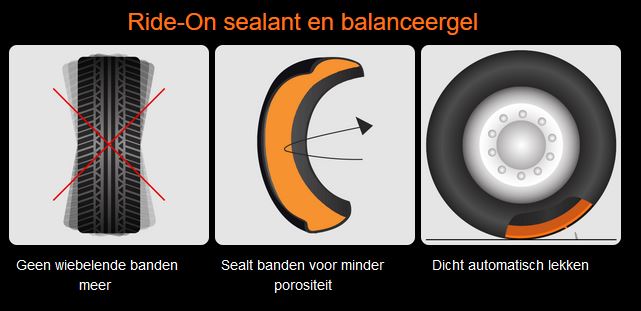 Een formule voor elk voertuig
Ride-On biedt een ruim assortiment formules die specifiek zijn ontwikkeld voor de behoeftes van elk voertuig. Of je het nu gebruikt in je motor, auto of SUV, in nieuwe banden of gebruikte, off-road of on-road, wij hebben wel een formule die voor je werkt. De sealant op waterbasis, verrijkt met Twaron vezels die zes keer sterker zijn dan staal, wordt in de band aangebracht via het ventiel of tijdens de bandenwissel. Het vormt een beschermende laag die zich hecht aan het loopvlak van de band - en nergens anders: geen resten op velgen of ventielen. 
Milieuvriendelijker en zuiniger rijden
Hier bij Ride-On zijn we toegewijd om meer wegveiligheid, minder kosten en minder schade aan het milieu te realiseren. Wanneer banden een optimale spanning kunnen behouden en perfect gebalanceerd zijn, is er minder rolweerstand. Daarmee verminderen ook bandenslijtage en brandstofverbruik. Banden gaan langer mee en stoten minder schadelijke rubberfijnstof uit. 
Veiliger en comfortabeler motorrijden met Ride-On 
Formule voor motoren
Voorkom lekke banden en verhoog het rijcomfort met Ride-On Motor bandensealant en balanceergel: een revolutionaire bandensealant die elke band verandert in een zelf-reparerende en zelf-balancerende band. Een combinatie van vezels - waaronder aramidevezels die zes keer sterker zijn dan staal - dichten automatisch lekken in het loopvlak van de band, veroorzaakt door objecten tot 6,4 millimeter in diameter.
De milieuvriendelijke, high-tech gel vormt een egale laag die het loopvlak van de band aan de binnenzijde bedekt. Deze laag helpt om de band te koelen, sealen en balanceren en blijft jarenlang actief: gedurende de wettelijke levensduur van de band. 
Veiliger op weg met Ride-On
Ride-On helpt banden veel langer een juiste spanning behouden dan onbehandelde banden én balanceert op hydrodynamische wijze de band/velg combinatie. Goed opgepompte en gebalanceerde banden blijven koeler, wat minder slijtage tot gevolg heeft. Banden gaan dus langer mee, tot wel 25% of meer. Bovendien neemt het risico op een klapband aanzienlijk af en rijdt u zuiniger. 
Bescherming en veiligheid: de speciale anti-lek formule helpt lekke banden en klapbanden voorkomen.
Comfort: banden worden continu gebalanceerd, voor een soepele rit.
Eenvoudig zelf aan te brengen en weer uit de band te verwijderen.
Langdurig actief, gedurende de gehele levensduur van de band.
"Aanvankelijk was ik sceptisch over het product, maar het bespaart tijd en geld en houdt onze rijders overeind en onderweg. We gaan als een speer door onze banden heen dus zijn altijd op zoek naar iets wat het gebruik kan maximaliseren. Een kwaliteitsmotor, goed onderhouden is het belangrijkste dat Eagle Rider voor zijn klanten verzorgt. In 2010 reden Eagle Rider klanten bijna 28 miljoen mijl op hun motoren. Het toevoegen van Ride-On Motor formula bandensealant en balanceergel helpt Eagle Rider monteurs om efficiënter te zijn bij het onderhoud van de motoren alsook de klant een beter presterende motor te bieden. De sealant verbetert het brandstofverbruik, verlengt de banden levensduur, vermindert trillingen en dicht puncties op het loopvlak van de band."

- Steve Sergi, Director National Corporate Service - EagleRider
Waarom Ride-On bandensealant en balanceergel?
✓ Meer veiligheid: beschermt preventief tegen lekke banden en klapbanden
✓ Comfortabeler rijden: banden worden continu gebalanceerd
✓ Eenvoudig aan te brengen en weer te verwijderen
✓ Werkzaam in banden met en zonder binnenband
✓ Geen ontsierende loodjes meer nodig 
✓ Eén keer aanbrengen is voldoende voor de gehele levensduur van de banden
✓ Actief bij snelheden tot 300 km/u
✓ Traditionele reparatie is nog steeds mogelijk
✓ Beschermt tegen roest en corrosie  
Voor prijzen en dosering, neem gerust contact op: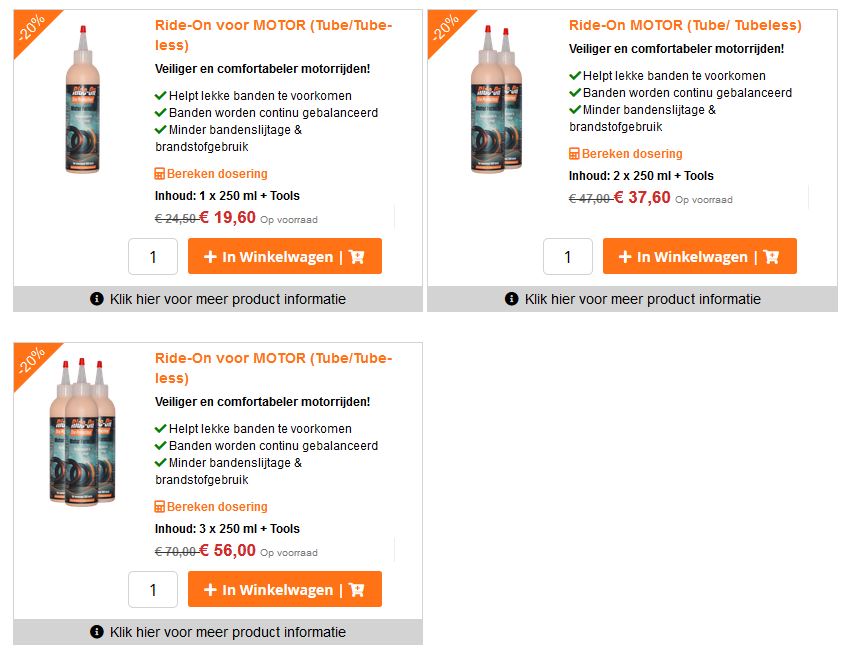 Bij interesse, vragen & planning verwijs ik je graag door naar de klantendienst: Klantendienst