R1200GS &R1200GSA 2004-2012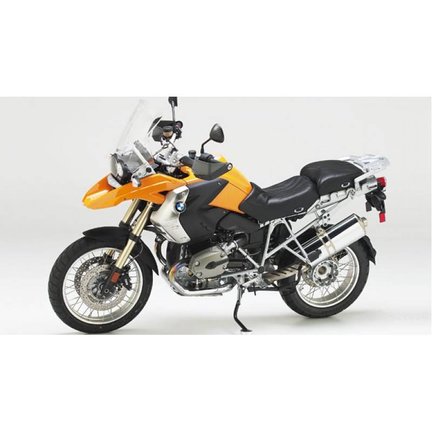 At its launch in 2004, the R1200GS was 30 kg (66 lb) lighter than the R1150GS it replaced,[5] and produced 100 bhp (75 kW), an increase of 19%. BMW continued to produce the R1150GS Adventure, releasing a final run-out special edition model,[6] before launching the R1200GS Adventure at the end of 2005, for the 2006 model year.[7]
Upgrades for model year 2008 included increased power to 78 kW (105 bhp), a new Integral ABS II anti-lock braking system was released without servo assistance and new options were added including electronic suspension adjustment (ESA) and the Automatic Stability Control (ASC) traction control system.[8][9]
In 2010 model year, both models had a revised cylinder head with double overhead camshaft, an increased redline limit to 8,500 rpm, and an exhaust flap to give the exhaust a different tone. Power is increased to 82 kW (110 hp) @ 7,750 rpm.[10]
At the 2012 Intermot, BMW announced that the 2013 model would have water cooling, deliver an additional 11 kW (15 hp), and weigh approximately 9.1 kg (20 lb) more than the outgoing model.[11]
Although the 2013 model has since proved itself, it had a somewhat shaky start. In the UK, the R1200GS has been subject to various DVSAvehicle recalls covering the front brakes, anti-lock braking system, throttle cable, fuel pump, clutch, final drive assembly, brake pipes, and gearbox;[12] and similar recalls have been issued in other countries. Early journalistic reports described the bike as having a front end "head shake" or speed wobble,[13][14] and deliveries of the motorcycle were halted while BMW revised the front end geometry.[15][16]