-11% Sale

29,80 € 26,56

Unique combination between tire lever and HEX end. Saves weight and space.

Compare

-4% Sale

79,- € 76,-

Motion Pro Bead Pro Forged Steel Tire Bead Breaker
The Motion Pro Bead Breaker is a must ...

Compare

-8% Sale

89,- € 82,-

BeadPro Tire Bead Breaker and Lever Tool Set
This is the compact travel version! 255gr & ...

Compare

€ 64,30

A must-have for on-the-trail repairs or adjustments

Compare

-5% Sale

18,69 € 17,69

Bead Buddy II PART #3810-0027 is an improved design of the original Bead Buddy
Durable 60...

Compare

€ 29,40

Motion Pro Chain Breaker with Folding Handle - Super handy!
Fits 420 to 530 chains

Compare

€ 27,30

Fits internal hex axles on many late model sportbikes and some off-road bikes

Compare

-4% Sale

96,13 € 91,99

Will break 520 to 530 chain
Able to press on and off 520 and some 525 clip type master li...

Compare

-7% Sale

23,68 € 21,99

Designed for the professional I.S.D.E rider as well as the Off-Road weekend warrior

Compare

-6% Sale

18,69 € 17,49

Prevents rim damage from tire levers during tire changes

Compare

Own workshop & storehouse
Personal approach for every project
Quick & spot-on follow-up of orders

€ 24,93

T-6 Combo Lever Adapter 24mm to 3/8" Drive
Allows your T-6 Combo Lever? to be used as a 3...

Compare

-16% Sale

8,50 € 7,10

Easy way to keep your fork seals clean and debris free
Extracts dirt and debris trapped b...

Compare

-6% Sale

74,- € 69,60

2 tire spoon set with versatile adapter insert
Both levers have perfectly contoured tire ...

Compare

€ 13,-

Motion Pro Nitro Tape (Oil-, Water-, UV-, Chemicals- and Salt proof). Sefl vulcanising tap...

Compare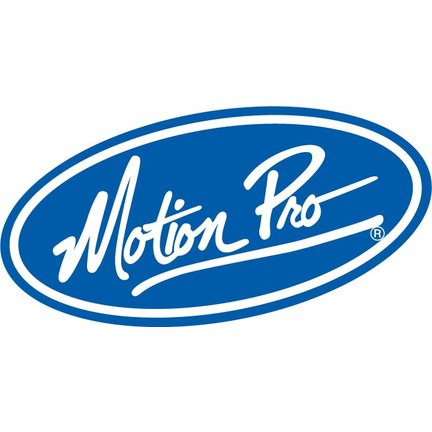 Motion Pro, Inc. ® designs and manufactures high quality cables, tools and controls for motorcycles, ATVs, snowmobiles and personal watercraft.

History
Motion Pro was founded in 1984 by Chris Carter. A gold medal winner in the prestigious 6-day ISDT, Carter and his team of engineers developed most of the innovative specialty tools and products we offer. Chris Carter's passion for motorcycle racing transpired to a company built on hard work and success with a goal to provide quality tools and controls for customers who share the same passion for motorcycling riding and racing. Motion Pro products are used and endorsed by champions and professional mechanics worldwide. Motion Pro's roots in racing still run strong today, Motion pro provides support to many professional and amateur riders. We also support a wide range of events covering amateur to professional dirt track, off-road, ATV and motocross.
Motion Pro Tools and Cables
Motion Pro is dedicated to producing the most versatile, unique and durable products for professional and home use. Motion Pro tools are designed to be simple to use, yet durable enough to withstand the harshest conditions. One of our goals is to offer tools of convenience, tools we feel make difficult or time-consuming jobs much easier. Motion Pro offers tools for changing tires to synchronizing carburetors to changing your oil. Many top racers and mechanics rely on Motion Pro tools and controls. A well-prepared vehicle, using the right tools, will ensure you come out ahead in the long run. Do it right the first time with Motion Pro Tools.

Motion Pro produces the best cables in the powersports industry. We work directly with top riders and mechanics in AMA Supercross, Motocross, GNCC, Enduro, ATV, Dirt Track and Baja to develop and test our products. Our new lineup of V-Twin cables offers a product for every need. From standard OE replacements to show bike custom builds, Motion Pro has you covered. We offer a full line of black vinyl OE replacement cables, performance cables, braided stainless steel Armor Coat cables, and new Blackout cables featuring black fittings on black vinyl housing for the complete "blacked out" look. Many of our V-Twin clutch cables feature our longitudinally wound (LW) housing that provides a smooth, easy to pull, compression free clutch actuation. Motion Pro has also developed the new T3 Slidelight cable series, which offer numerous performance upgrades such as anodized billet aluminum fittings and an inline cable lube system. The increased efficiency of our T3 cables provides a lighter, smoother pull and significantly increased durability over conventional OE cables.

Motion Pro Workmanship
Motion Pro tools, cables, controls and accessories are designed with high quality materials. Our products are built to withstand years of use. We stand behind our products 100% for quality and workmanship.


Motion Pro is proud to support the following organizations, schools and events:
CORVA - California Off-Road Vehicle Association
C.O.H.V.C.O - Colorado Off Highway Vehicle Coalition
MIC - Motorcycle Industry Council
Blue Ribbon Coalition
CRISTA Camps
TPA – Trail Preservation Alliance
Star School
American Supercamp
AMA Endurocross
AMA National Enduro Series
AMA Lucas Oil Motocross Championship
Nevada 200 Trail Ride – Best in the Desert promotion